The Price of Dental Implants: The Always Up-to-Date Guide
by Apple Dental Implant Centre on (February 10, 2023)
If you've found your way to this page, you are likely at a crucial stage in deciding on a tooth replacement solution. This is a good place to be because missing teeth can lead to severe teeth misalignment and the potential for further tooth loss. The question of price is inevitable in the decision-making process.
You probably feel dental implants are the premium tooth replacement option, with higher costs. However, as the ultimate tooth replacement option, you'll also enjoy a longer lifespan, superior look, and authentic tooth function. Furthermore, they are not as expensive as conventionally thought. At Apple Dental Implant Centres, we offer implants starting at $999 for implant only.
To help you make your final decision, we will offer an in-depth, honest look at dental implant prices in hand with logical steps to take when making your decision. Book a consultation today if you're ready to get the process started.
Let's explore the real costs further.
Missing teeth lead to an inability to chew your food properly, and raise aesthetic concerns.
With no teeth in place, the body begins to modify your jaw bone and you begin to lose jaw structure.
Not only do you suffer because of a missing tooth, your remaining natural teeth also begin to shift to fill the empty spaces leading to further deterioration of function and balance.
If you don't replace missing teeth, it's possible to lose even more teeth, reducing your quality of life.
Implant vs. Bridges:
Implants are embedded into your jaw bone so no adjacent teeth are harmed, while bridges require two adjacent teeth to be cut and shaped to replace one tooth.
Implants act and feel as close to natural teeth as possible. Bridges do not offer the same level of feedback.
Implants protect the jaw bone and gum line by imitating natural dentition as much as possible, while bridges do not protect bone which tends to resorb due to no stimulation underneath a bridge.
Implants don't need replacement if maintained well, but bridges usually require replacement after a few years even when maintained.
Implanted teeth appear more natural as compared to bridges and are easier to maintain.
Implants vs. Denture:
Implants offer a more solid base and better chewing forces as compared to dentures.
Implants do not need as much maintenance as dentures.
Implants help keep the bone and gum tissue healthy, while dentures result in further bone loss needing to be relined or re-made frequently.
Implants can offer up to 80 percent of natural biting force, while dentures offer only 20 to 30 percent of natural biting force.
Low cost of maintenance on implants and less chances of needing replacement. Dentures need to be periodically replaced and relined.
Implants are independent structures, while partial dentures rely on the remaining natural teeth to gather retention and can cause them harm.
Considering the above points (which are not extensive), it is safe to say that over the long run, implants may actually be a more financially viable option compared to dentures or bridges.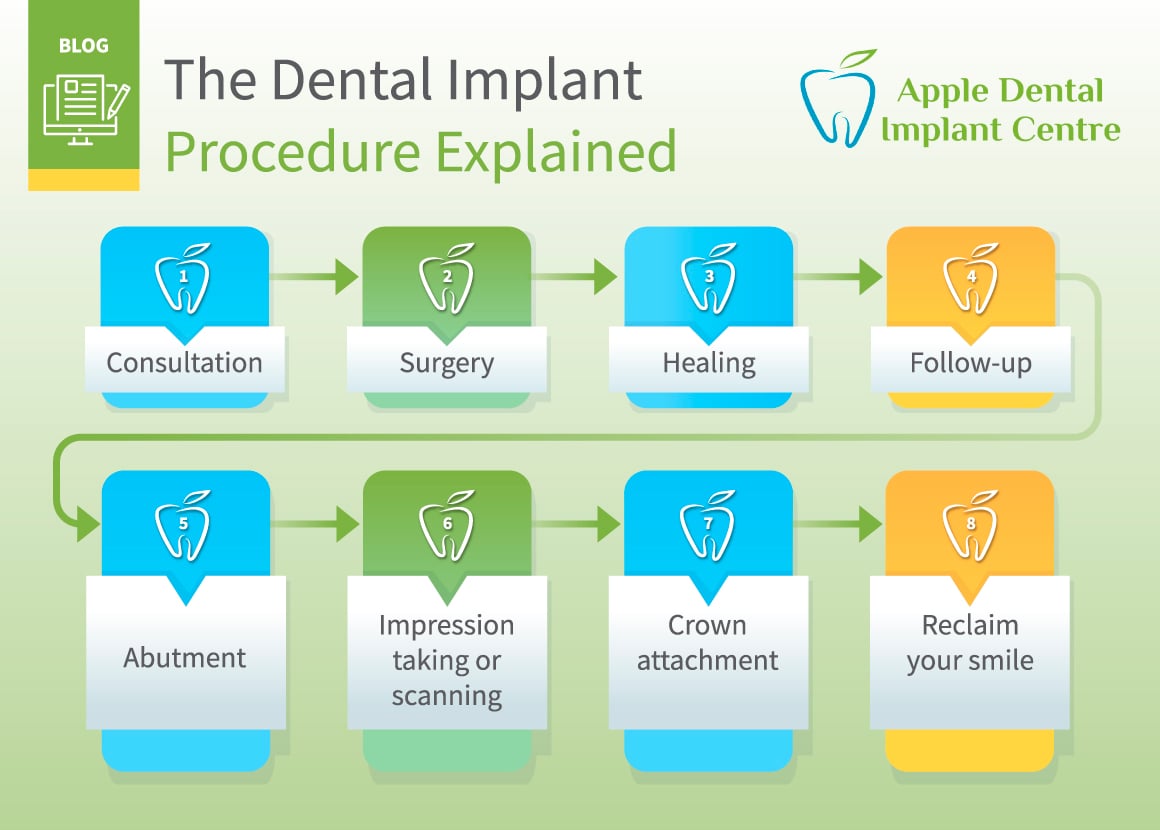 The Dental Implant Procedure Explained
Dental implant surgery is performed as outpatient surgery, so you won't need to spend time in the hospital. It is usually a staged procedure performed at a dental implant clinic such as an Apple Dental Implants Centre. The stages required depend on your current dental health and the preparation needed to ensure implants can be inserted successfully.
Here are the common stages involved:
Consultation: At your consultation, the dentist will check your mouth for existing oral conditions and determine your current gum and bone health using clinical examination and a cone beam CT scan. Based on results of the scan, your dentist will give you a step-by-step breakdown on how your treatment will likely progress. Depending on your condition, you may require extractions of broken or diseased teeth, bone or gum grafting prior to or during the process of getting your implants placed. All of this is explained at the time of your consult with a detailed explanation of the costs also provided.
Surgery: On the day of surgery, you will arrive at the pre-appointed time and take any pre-surgical medication your dentist has requested. You will receive local anesthesia or, insif available, oral or IV sedation. After ensuring you are completely anesthetised, your dentist will perform the procedure. Some sutures may be placed for gums to seal well and you will be given post-operative instructions and medications to take.
Healing: The healing phase of implants results in implants being fused to your jaw bone in a process called OSTEOINTEGRATION. This process lasts several months, but doesn't necessarily mean you will remain without a tooth the whole time. If the implant site is strong enough, your dentist may decide to provide you with a temporary tooth to hold the space until healing is at a stage where a permanent crown can be provided. In most cases, the implants are buried under the gum to allow for adequate healing before they receive a crown or abutment.
Follow-up: You might visit your dentist several times following your implants to monitor healing and bone healing progression to determine when you can schedule the next stage.
Abutment: If you did not receive a healing abutment at the time of surgery, your dentist will install one at this appointment, which is usually around 4 to 6 months after implant insertion. The healing period for this is about 2 to 3 weeks.
Impression taking or scanning: Your dentist will take an Impression of your gums and implant site with an impression coping or in some clinica. They will do a digital scan to measure and replicate the site where the new tooth will be placed.
Crown attachment: Approximately 2 to 3 weeks after your impressions are taken, your dentist can deliver the final crown.
The entire process from consultation to receiving your final crown can take several months. The specific range of time taken is however, dependant on several factors which your dentist at APPLE DENTAL IMPLANT CENTRE will discuss with you. Book your consultation today to learn more.
Why is the Price of Dental Implants Not Covered By Insurance?
Insurance companies do not usually cover dental implants because they consider them a cosmetic procedure. If a treatment is not required to maintain oral and dental health, the pricing of dental costs is not covered. Although failure to replace a missing tooth can lead to further dental issues, dental insurance companies have yet to catch on that the procedure could actually save them money in the long run.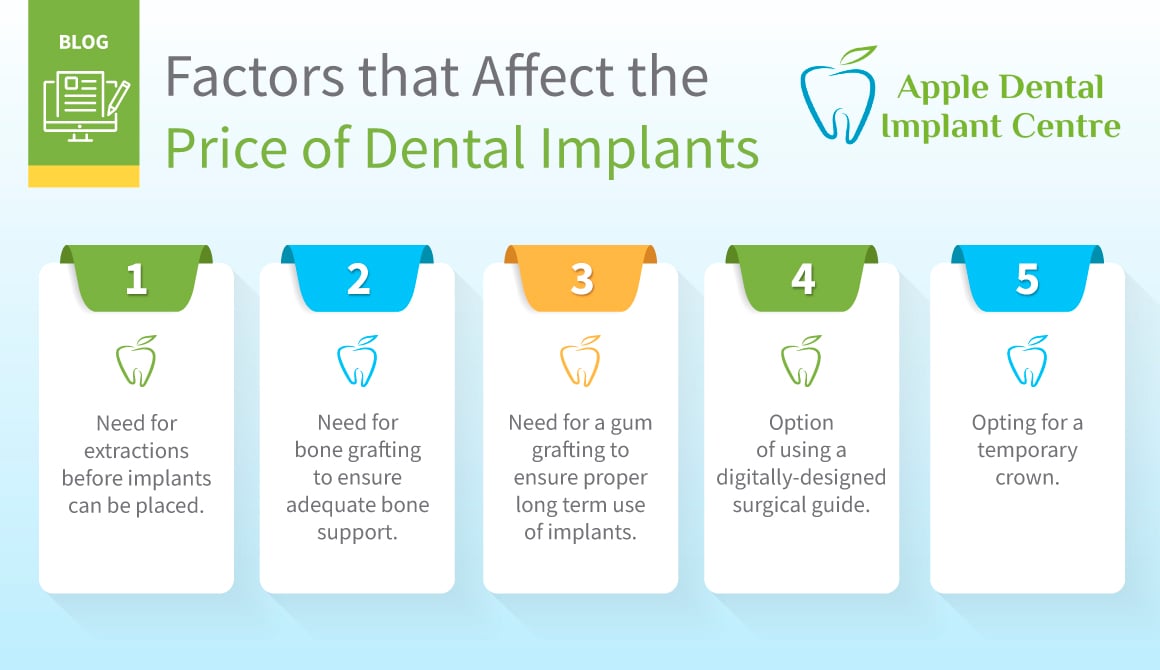 Factors that Affect the Price of Dental Implants
As mentioned above, our pricing for a single implant starts at $999. For a single implant and crown, the pricing starts at $2299. However, there are factors that can affect the total cost of treatment. These can include, but are not limited to, the following:
Need for extractions before implants can be placed.
Need for bone grafting to ensure adequate bone support.
Need for a gum grafting to ensure proper long term use of implants.
Option of using a digitally-designed surgical guide.
Opting for a temporary crown.
The Apple Dental Implant
Experience
Experience is one of the most important factors in ensuring success of your implant treatment. At Apple Dental Implant Centre, you can be assured highly experienced dental professionals to assist in your implant journey. We have restored thousands of smiles and are confident in our ability to offer you a customized implant solution.
The Average Price of Dental Implants In Canada
When we look at the average costs of dental implants in Canada, the procedure for the implants ranges from $1,000 to $3,000, and the abutment and crown are an extra up to $3,000, according to the Medical Tourism Association.
So, you are looking at a vast range, all-in up to $6000 for a single tooth in certain areas. Where you live also plays an important role in determining the total cost. For example, in Ontario, the average is $6500, yet in Toronto, it's sits much lower at $4075.
Here is an estimated breakdown of major city centers in Canada:
Toronto: $4075
Vancouver: $4500 to $5000
Calgary: $4500 to $6000
Winnipeg: $4500 to $6000
Ottawa: $3800
Montreal: $3300 to $5500
Compared to the above, Apple prides itself for offering implants at a much more affordable cost. Our goal is to make this essential treatment available for a much larger population as opposed to a select few. We are able to offer these prices based on our relationships with companies and the large volume we produce every year, and a decision of our team to pass on these savings to our patients.
American patients are often drawn to Canada due to the power of the almighty USD. There isn't much difference if you are comparing the price between U.S. and Canadian prices. Where you'll see the savings is that you are paying $1000 to $6,000 CAD per tooth. Depending on the current dollar value, this can offer impressive savings. Both Canadians and Americans should also be sure to ask about other costs, such as CT scans.
Is the Price of Dental Implants Worth It?
The answer to that question is YES. Missing teeth can have a major impact on your mental, dental and physical health in the following ways:
Physical health: Difficulty chewing can lead to poor nutrition and ill health. You are also at high risk of periodontitis, a severe gum infection that can spread to other parts of the body via your gums and blood.
Dental: The gaps left behind from tooth loss lead to long-term teeth shifting, causing crowding, misalignment, loosening, gum disease, and tooth loss. Tooth loss can also impact your jawbone health without roots to stimulate bone health. Even if you wear dentures, you resolve the issues of your appearance and chewing (as long as the denture is properly fitted) but miss out on much-needed bone stimulation.
Mental: Studies show that Missing teeth can negatively impact self-esteem leading to isolation and increased risk for mental health issues such as depression and social anxiety.
Review of Dental Implant Benefits
Although we've already covered the benefits of dental implants, it's important to consider the benefits as it relates to the value they bring to your life, including:
ROI: They are permanent and durable, meaning they become more cost-effective over your lifetime. Since, your implants also provide support to your natural teeth, you can save on costly treatments for gum disease, tooth loss, restorations, etc.
Comfort & proper function: Your implants offer a natural and comfortable fit. They also make you feel more comfortable with your appearance. Dentures tend to shift and cause issues making it difficult to speak, laugh, and chew.
Bone health: Bone stimulation via your artificial "root" helps reduce bone loss common with full-mouth denture wearers.
Low Maintenance: Your dental implants require similar care as your natural teeth and gums, so there are no extra steps to add to your dental regime.
Should I Consult an Expert?
Yes, it is always best to consult with an expert when considering any form of dental treatment. They can discuss everything you need to know about having dental implants, with a review of the pros and cons and whether you make a good candidate for the procedure. Apple Dental Implant Centres' team are ready to answer your questions and discuss your tooth replacement treatment.
Click here to schedule your no obligation consultation today, or find an Apple Dental Implant Centre near you.